The Haena State Park and Kuhio Highway will reopen simultaneously to Kuhio Highway on the morning of Monday, June 17, when the first full bridge closure is complete. Access to the park for visitors will require a reservation, which can be obtained via The Hanalei Initiative website. Visitors are strongly encouraged to utilize the new Kaua'i North Shore Shuttle to limit vehicular traffic into the area. You can make reservations for both the shuttle and entry to the park by Clicking Here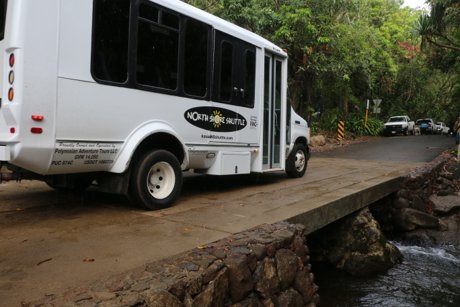 Important Info on Continued Road Work:
The Hawaii Department of Transportation (HDOT) reminds the public that the Lihue bound lane of the highway remains closed as crews work to stabilize the upper and lower slopes at mile marker 1 on Kuhio Highway (Route 560). The slope stabilization is anticipated to be completed in Fall.
The plan for the slope stabilization includes scaling, soil nail installation, and Tecco mesh and shotcrete reinforcement. The Lihue bound lane of Kuhio Highway will remain closed for the duration of the slope stabilization, which is expected to take between four to five months to complete.
Crews worked to remove loose vegetation that fell onto the highway earlier this week. That work has been completed, but additional work may be required should additional vegetation fall into the roadway or become an imminent threat to the public.
Soil nail work at the lower slope of Hanalei Hill began this week. While one lane will remain closed during this work, traffic should be flowing regularly through the work area. Motorists are reminded to obey all traffic control measures and the direction of flag men to allow for traffic to flow safely through the work zone.
Rock scaling operations will not take place during the lower slope work. Regular work hours for the Kuhio Highway slope stabilization on the hill before Hanalei Bridge will be 7 a.m. to 4 p.m. Monday through Saturday. Please be advised that the highway in this location will be limited to one lane 24-hours a day until the stabilization is completed for the safety of passing motorists.
Scaling of the uphill portion of Hanalei Hill is estimated to begin in July 2019. The schedule will be announced when finalized.
They are aware of the scheduled events in the area including the HCRA State Championship Race in August and will coordinate access and traffic control with the county and other stakeholders.
First responders have been notified and will be able to pass through the work zone in the event of an emergency at all hours.